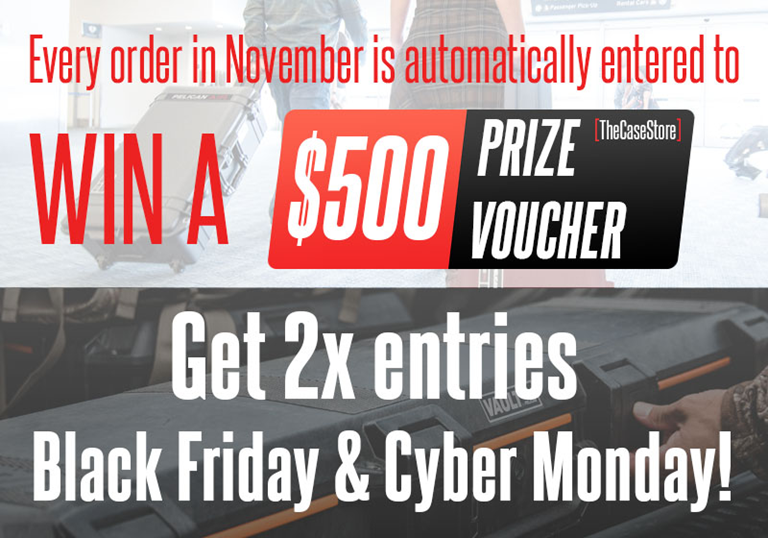 Black November Shopping Spree Giveaway
We're giving BIG thanks to one lucky winner this November! 
Every order placed on TheCaseStore.com will be automatically entered to win a $500 Gift Voucher at our store!
Automatic entries applies orders placed 11/1/20 thru 11/30/20.
DOUBLE ENTRIES 11/27/20 & 11/30/20!!
Get 2x entries in the giveaway on Black Friday and Cyber Monday only!
Prize will be distributed in the form of a unique discount code ($500 value) applied at checkout.
Not redeemable for cash or prior orders.
$500 prize voucher must be redeemed by 12/31/21.
The Case Store 2020 Adventure's Calling Prize Pack Giveaway
Official Rules
NO PURCHASE REQUIRED TO ENTER OR WIN. This Sweepstakes is in no way sponsored, endorsed or administered by, or associated with, Pelican™ Products or its affiliate platforms. Mentioned platforms are not affiliated with the Administrator in any way. Follow this link for manual electronic entry.
Eligibility:
The Case Store Black November Shopping Spree Giveaway (the "Sweepstakes"), is open only to legal residents of the fifty (50) United States and District of Columbia ("D.C.") who are eighteen (18) years of age or older at the time of entry (nineteen (19) or older if a resident of AL or NE). Employees of The Case Store ("Administrator"), and any of their respective subsidiaries, affiliates, authorized agents, sales representatives, distributors, advertising and promotional agencies, and members of the immediate families (defined as including spouse, biological,adoptive and step-parents, grandparents, siblings, children and grandchildren, and each of their respective spouses, regardless of where they reside) or households (whether related or not) of any of the above are NOT eligible to participate in this Sweepstakes. Non-eligibility or non-compliance with any of these Official Rules will result in disqualification. The Sweepstakes is subject to all applicable federal, state, and local laws and regulations and is void outside the 50 U.S./D.C. and where prohibited by law.
Agreement to Official Rules: By participating in the Sweepstakes, entrant fully and unconditionally agrees to and accepts these Official Rules and the decisions of the Administrator, which are final and binding in all matters related to the Sweepstakes.
Promotion Period: The Sweepstakes begins at 12:01 a.m. Central Standard Time (CST) on November 1, 2020, and ends at 11:59 p.m. CST, November 30, 2020, (the "Promotion Period"). Administrator's computer is the official timekeeping device for this Sweepstakes.
How to Enter:

Website Entry: During the Promotion Period, visit https://www.thecasestore.com/(the "Website") and purchase one or more products during the Promotion Period ("Purchase Entry").Entrants must complete all required information. RECEIVE ONE ENTRY FOR EVERY ORDER. ORDERS PLACED 11/27/20 & 11/30/20 RECIEVE DOUBLE (2X) ENTRIES PER ORDER.
Mail-In Entry: Enter by legibly hand printing on a 3"x 5" or 4" x 6" postcard, in black or blue ink, your first name, last name, mailing address, city, state, zip, day and evening phone numbers with area code, e-mail address (if available) and date of birth. Mail each postcard separately in a hand printed first class stamped #10 business size envelope to: Case Store Sweepstakes, 2395 S Burrell St Milwaukee, WI 53207. The return address on the envelope must also be hand-printed with the sender's full name and address. Rubber stamped or Commercial printed return address labels will void the entry. The Bonus Entry Period Date must appear above the return address information. This date appearing above the return address will be relied upon to qualify a Participant's Bonus Entries. There is no limit on the number of separate mail-in entries. Bulk shipments (multiple entries in one shipping package) will not be accepted and will be destroyed.
All mail-in entries must be postmarked by November 27, 2020 and receivedby November 30, 2020.
Typed, computer generated, or otherwise mechanically reproduced postcards, and outer envelopes are NOT allowed and will not be accepted. Proof of sending a submission will not be deemed to be proof of receipt by Sponsor. Sponsor is not responsible for mail that is lost, late, incomplete, invalid, unintelligible, illegible, stolen, damaged, or misdirected. Postage due mail entries will be disqualified.
All entries become the exclusive property of Sponsor and will not be acknowledged or returned.


Drawing: On August 31st, 2020, Administrator will select one (1) winner of the prize described in Rule 7, below, in a random drawing from among all eligible entries received during the Promotion Period. The potential winner will be notified by phone or email. The odds of winning the prize depend on the number of eligible entries received during the Promotion Period.
Requirements of Potential Winner: Potential Grand Prize winner must meet all eligibility requirements set forth in these Official Rules and comply with these Official Rules to qualify for the prize. The potential Grand Prize winner will be contacted by phone and/or email and will be required to sign and return to Administrator, by December 2, 2020, at 12:00 p.m. CST, an Affidavit of Eligibility and Liability and Publicity Release (except where prohibited) in order to claim his/her prize and to fulfill any such other requirements as determined by Administrator. If the potential Grand Prize winner fails to do so, he/she may be disqualified and forfeit the prize in its entirety. In the event that thepotential winner is disqualified for this and/or any other reason, if time permits, Administrator will select an alternate potential winner in a random drawing from among all remaining eligible entries. If necessary, this process will be repeated up to three (3) times (time permitting). If the prize is not claimed by the third attempt to award it, the prize will not be awarded.
Prize: One $500 Gift voucher (coupon code that applies a $500 discount)
Approximate Retail Value ("ARV"): $500. All federal, state and local income taxes on the prize are the responsibility of the winner. Winner will be issued an IRS Form 1099 for the value of the prize. Prize cannot be transferred, assigned, redeemed for cash, sold, offered at an auction, or substituted in whole or in part, except at Administrator's sole discretion or as provided herein. Administrator may substitute a prize, or portion thereof, of equal or greater value the advertised prize, or a portion thereof, becomes unavailable for any reason.​The prize consists only of the items described above. Winner is responsible for any and all local, state and/or federal taxes, as well as any other costs and expenses not specified herein as being included with the prize, including, without limitation, transportation, meals, beverages, purchases, lodging, incidentals, telephone calls or other personal expenses. Winner will not be compensated for any difference between the stated ARV and the actual value of the prize at the time it is awarded.
8. Publicity Consent: Acceptance of the prize constitutes winner's permission for Administrator to use winner's name, voice, biographical information (city/state), filmed, taped or otherwise recorded image, and/or likeness for purposes of advertising and trade, in commerce and in all media now known or hereafter discovered (including but not limited to the internet and social media), worldwide, without further notice, permission or compensation.
9. General Conditions: If for any reason the Sweepstakes cannot be executed as planned, including but not limited to any printing, administrative, human or other error of any kind, transmission failure, infection by computer virus, bugs, tampering, unauthorized intervention, fraud, technical failures, or any other causes beyond the control of the Administrator that corrupt or affect the security, administration, fairness, integrity or proper conduct of the Sweepstakes , or if the Sweepstakes is compromised or becomes corrupted in any way, electronically orotherwise, Sponsor may, in its sole discretion, either: (a) suspend the Sweepstakes to address the impairment and then resume the Sweepstakes in a manner that best conforms to the spirit of these Official Rules; or (b) terminate the Sweepstakes and award the prize in a random drawing from among all eligible entries received up to the time of the impairment. In the event of termination, a notice will be posted on the Website.

The Administrator reserves the right in its sole discretion to disqualify any individual it finds to be tampering with the entry process or the operation of the Sweepstakes, or to be acting in violation of these Official Rules or in an unsportsmanlike or disruptive manner. Any attempt by any person to undermine the legitimate operation of the Sweepstakes may be a violation of criminal and civil law, and, should such an attempt be made, the Administrator reserves the right to seek damages from any such person to the fullest extent permitted by law. The Administrator's failure to enforce any term of these Official Rules shall not constitute a waiver of that provision.


The Released Parties (as defined in Rule 10, below) are not responsible for: (a) electronic transmissions or entries that are lost, late, stolen, incomplete, illegible, damaged, garbled, destroyed, misdirected, or not received for any reason; (b) any problems or technical malfunctions, errors, omissions, interruptions, deletions, defects, delays in operation or transmission, communication failures or human error that may occur in the transmission, receipt or processing of entries, for deletion, theft or destruction of, unauthorized access to, or alteration of, entries; (c) failed or unavailable hardware, network or software; (d) causes beyond the Released Parties' reasonable control that jeopardize the administration, security, fairness, integrity or proper conduct of this Sweepstakes; (e) incorrect or inaccurate information whether caused by entrants or by any of the equipment or programming associated with or utilized in the Sweepstakes; (f) any typographical or other error in any printing or advertising relating to the Sweepstakes, in the administration or execution of the Sweepstakes, or in the announcement of the prize winner; or (g) cheating or fraud by any participant.
10.Release and Limitations of Liability: By participating, you agree to indemnify, release, defend and
hold harmless the Administrator, The Pelican Store, Affiliate platforms, Program Administrator, their respective parent companies, affiliates, subsidiaries, authorized agents, sales representatives, distributors, and advertising and promotion agencies, and each of their respective employees, officers, directors and shareholders (collectively, the"Released Parties") from and against any and all liability, damages or causes of action (however named or described), with respect to or arising out of: (a) your participation in the Sweepstakes; or (b) your acceptance, possession or use of the prize (if awarded to you).
By accepting the prize, the winner acknowledges that the Released Parties have neither made, nor are in any manner responsible or liable for, any warranty, representation or guarantee, express or implied, in fact or in law, relative to the prize or any portion thereof, including but not limited to its quality, mechanical condition or fitness for a particular purpose. Entrant further agrees that in any cause of action, the Released Parties' liability will be limited to the cost of entering and participating in the Sweepstakes and in no event shall the Released Parties be liable for attorney's fees.
Entrant waives the right to claim any damages whatsoever, including, but not limited to, punitive, consequential, direct, or indirect damages. If for any reason an entrant's entry is confirmed to have been erroneously deleted, lost, or otherwise destroyed or corrupted, entrant's sole remedy is another Sweepstakes entry; provided that if it is not possible to award another entry for any reason, Administrator, at its discretion, may elect to hold a random drawing from among all eligible entries received up to the date of discontinuance for any prize offered herein. No more than the stated number of prizes will be awarded. In the event that production, technical, seeding, programming or any other reasons cause more than the stated number of prizes as set forth herein to be available and/or claimed, Administrator reserves the right to award only the stated number of prizes by a random drawing among all legitimate, un-awarded, eligible prize claims.
11.Disputes/Venue/Governing Law: By participating, entrants agree that: (a) any and all disputes, claims and causes of action arising out of, or connected with, this Sweepstakes or the prize shall be resolved individually, without resort to any form of class action, and exclusively by the appropriate federal, state or local court located in Milwaukee County, Wisconsin; (b) any and all claims, judgments and awards shall be limited to actual out-of-pocket costs incurred, including but not limited to costs associated with entering this Sweepstakes ,but in no event attorneys' fees; and (c) to the extent allowed by applicable law, under no circumstances will entrant be permitted to obtain awards for, and entrant hereby waives all rights to claim, punitive, incidental and/or consequential damages and/or any other damages, other than out-of-pocket expenses, and any and all rights to have damages multiplied or otherwise increased. SOME JURISDICTIONS DO NOT ALLOW THE LIMITATION OR EXCLUSION OF LIABILITY FOR INCIDENTAL OR CONSEQUENTIAL DAMAGES, SO PORTIONS OF THE ABOVE MAY NOT APPLY TO YOU.
All issues and questions concerning the construction, validity, interpretation and enforceability of these Official Rules, entrants' rights and obligations, or the rights and obligations of the Administrator in connection with the Sweepstakes, shall be governed by, and construed in accordance with, the laws of the State of Wisconsin, without giving effect to any choice of law or conflict of law rules (whether of Wisconsin or any other jurisdiction), that would cause the application of the laws of any jurisdiction other than Wisconsin.
In the event there is a discrepancy or inconsistency between disclosures or other statements contained in any Sweepstakes-related materials or made by any representative of Administrator, and the terms and conditions of these Official Rules, these Official Rules shall prevail, govern and control.
12.Severability: The invalidity or unenforceability of any provision of these Official Rules shall not affect the validity or enforceability of any other provision. In the event that any provision is determined to be invalid or otherwise unenforceable or illegal, these Official Rules shall otherwise remain in effect and shall be construed in accordance with their terms as if the invalid or illegal provision were not contained herein.

13.Winner's Name: The first name and last Initial of the winner will be posted on Facebook, Instagram and emailed to The Case Store's Lists on MailChimp, after the winner is verified. To request a copy of the winner's name by mail, send a self-addressed, stamped envelope to Marketing/Giveaway at The Case Store, 2395 S Burrell St., Milwaukee, WI 53207.

Requests must be received no later than September 11, 2020, and will be fulfilled after the winner is verified.

14. Participants' Privacy: Any personally identifiable information collected in connection with an entrant's participation in this Sweepstakes will be used by Administrator, its affiliates, agents and marketers only for purposes of the proper administration and fulfillment of the Sweepstakes, as described in these Official Rules, and in any manner consistent with Administrator's Privacy Policy, available on the Website.

15.Administrator: The Adventure's Calling Giveaway is Administered by The Case Store, 2395 S. Burrell St. Milwaukee, WI 53207.


Pelican™ Products and each of their respective subsidiaries, affiliates, shareholders, officers, directors, agents, representatives, and employees ("Entities") will have no liability or responsibility for any claim arising in connection with participation in this Sweepstakes or the prize. The Entities have not sponsored this Sweepstakes in any way.

Any questions, comments or complaints regarding this Sweepstakes must be directed to the Administrator only, and NOT to Facebook.

All trademarks used herein are the property of their respective owners.

©2020 The Case Store. All rights reserved.