Pelican™ Case Features
Pelican™ cases have been engineered to take on the most grueling demands you can dish up, day in and day out. Plus, Pelican™ cases are guaranteed for life. You break it, Pelican™ will fix or replace it for free. No questions asked.
---
Stronger by Design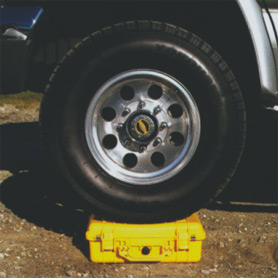 Pelican™ cases have open-cell cores and solid-wall constructions, which makes them stronger and lightweight than a case with a solid-core wall. Stainless steel pins are used for all of the hinges as well as the handles. The newly designed double-throw latch system is stronger and easier to open. In addition, all Pelican™ cases feature the "C" clamp design with a secondary movement that works like a pry bar to start the release and offers plenty of leverage to open the case with just a light pull.
---
Watertight

The secret to a Pelican™ cases' watertight seal is the tongue-and-groove fit and polymer o-ring. The patented pressure-equalization valve automatically releases built-up pressure within the case while keeping water out, resulting in a watertight case that is still easy to open.
---
Easy Riding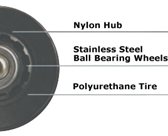 Many of the large Pelican™ cases have removable wheels, making transporting your professional equipment not only safe but effortless.
The nylon hubs on the wheels are heat resistant, making them less susceptible to wear and tear.
---
Extra Protection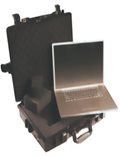 Most Pelican™ cases come standard with the revolutionary Pick N Pluck™ foam customization system. Pick N Pluck™ foam lets you customize the cutouts in the foam base, meaning each your tools or items has a snug resting place configured to its exact dimensions. Layers of foam are pre-scored into tiny removable cubes. Simply outline your equipment over the grid and pull away each of the cubes until you have the desired shape and size.
---
Keep it Shut
Need to lock your case? No problem. Most Pelican™ cases feature a metal-reinforced padlock protector that provides added strength and security against bolt cutters. The Pelican Store also offers TSA-approved locks to make airline travel a breeze.